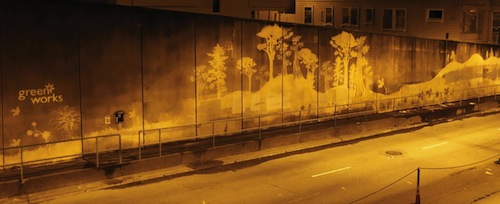 Sometimes, just trying something different can promote great brand awareness and generate hype and attention. Rather than plastering cities with yet more billboards and posters, some companies are instead choosing to clean up urban areas. And whatever people call it – reverse graffiti, clean tagging, green graffiti, clean advertising or grime writing – the idea is the same. This relatively new technique involves using pressure washers together with stencils to remove dust and dirt from surfaces – and so create semi-permanent images and messages on the urban landscape.
The technique draws the public eye, and when it's tied in with social media and other interactive and online strategies, it can generate a huge amount of publicity. Here we look at 10 companies that have used this exciting creative method in their marketing campaigns.
10. Miller Genuine Draft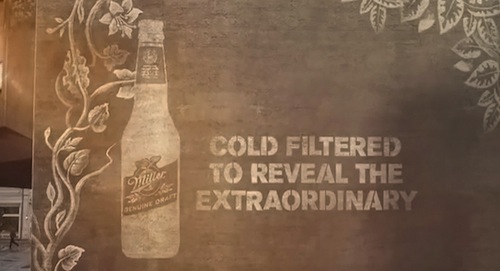 In 2010, Miller Genuine Draft teamed up with ad agency Leo Burnett London to create a massive reverse graffiti mural in Bucharest, Romania. Focusing on the cold filtering process behind the beverage, a short commercial titled "Clean Streets" was shot to accompany the mural and capture it on camera. As the building and scope of the piece were both so large, using stencils wasn't enough. Instead, the pattern was projected onto the building at night, outlined, and then cleaned during the day. With a delicate floral border, the over-sized ad transformed the bare exterior of the building into a beautiful work of eco-friendly art.
"Cold filtering's all about removing impurities… Remove something, but in doing so create something better," explains Leo Burnett London's Stuart Royall. In addition to the mural and the 60-second commercial, Leo Burnett London produced a comprehensive advertising campaign by placing clean graffiti in visible city locations.
9. Texaco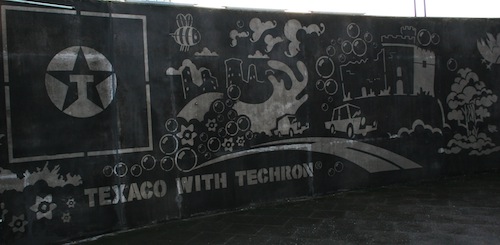 In early 2010, marketing firm Ambient Media created this reverse graffiti mural in Cardiff, Wales. The piece was made by placing huge stencil templates against the wall and spraying off the dirt and grime using a pressure washer. Not only did the ad generate lots of interest, but the message came through loud and clear: Texaco with Techron cleans your engine the same way a high-pressure hose scoured the grime off this wall.
To ensure that it was highly visible, the 72-foot long mural was strategically placed near Cardiff Central train station. The unusual display also attracted the attention of local media. "This is a perfect way for Texaco to show consumers what its product does rather than just tell them about it," says Ambient Media managing director Craig Ciurlionis. It sure beats a humdrum old billboard.
8. Greenpeace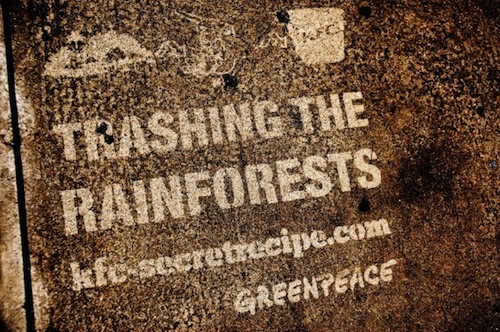 This reverse graffiti call for KFC to clean up its act was made in August 2012 in Los Angeles. Reverse graffiti formed a part of Greenpeace's campaign to demand that Yum! Brands, who own KFC, stop using products from Asia Pulp and Paper in their packaging. According to Greenpeace, the paper company is laying waste to Indonesia's rainforest, which is home to many unique flora and fauna, among them the Sumatran tiger and the world's largest flower.
Activists got on board and used other unusual tactics to raise awareness about the campaign, including a street theater performance that involved dousing Colonel Sanders in barbecue sauce. In 2013, under mounting pressure, KFC Indonesia released a statement saying that they had suspended purchases from Asia Pulp and Paper.
7. Microsoft (Xbox)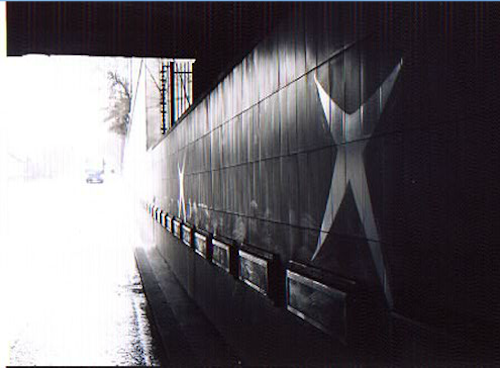 Microsoft used reverse graffiti to advertise the 2002 European launch of the Xix, proving the versatility of this kind of marketing. In fact, according to Curb Media founder Anthony Ganjou, a lot of sustainable advertising proves far more successful than standard methods, because it catches people's attention. "We can do an advertisement out of mud anywhere in the world, and I guarantee that 25 out of 30 people will stop and take a photo of it with their mobile phone," explains Ganjou. "And at least half of those people will upload it to their social media network."
There's something truly compelling about the gleaming "X" cleaned into the urban grime in the piece featured above. It demands attention in a way people can appreciate. The artwork, which appeared in London, was created by renowned grime writer Paul "Moose" Curtis' company Symbollix.
6. Sony Xperia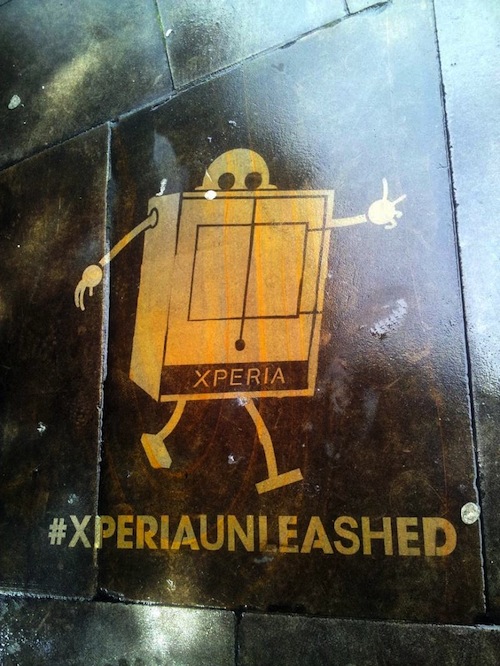 Marketing company Street Advertising Services created the Xperiabot reverse graffiti piece pictured here as part of a larger campaign run by ad agency Iris Worldwide for Japanese electronic giant Sony. The campaign was launched in July 2012, with the Xperiabots scattered throughout the UK and on various websites in an effort to capture the interest and imagination of a young and more adventurous demographic.
The bots took the shape of everything from images on billboards and cars to actual 3D figures and even food items. Anyone who found an "escaped" Xperiabot and its corresponding quick response (QR) code was urged to "snap it, scan it, tweet it or Instagram it" to win prizes. And according to Iris, the campaign succeeded, "creating a huge social buzz and reaching every corner of the UK" and leading to a 33 percent increase in brand awareness.
5. Smart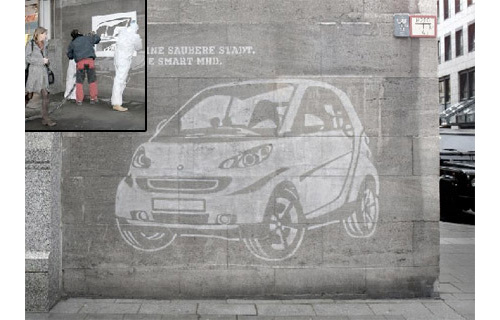 Although reverse graffiti has been used to promote everything from petrol to pizzas, it seems especially potent when there's a green message behind the marketing campaign. This is no doubt tied in with the fact that it's a particularly eco-friendly medium for street art. After all, no chemical substances like spray paint are needed, and if anything it cleans rather than sullies surfaces.
This Smart car green graffiti was created in 2010 by ad agency Ludvik and Partners in Germany. On top of drawing attention to the amount of dirt in our environment, the ad also presents people with something they can do about it – that is, opt for a lower-emissions vehicle like a Smart car. And as just suggested, because the cleaning is done with water, the graffiti technique itself is more sustainable. Even better, according to GreenGraffiti founder Jim Bowes, a 55-inch-square paper poster uses 30 times more water than a similarly sized piece of reverse graffiti.
4. Domino's Pizza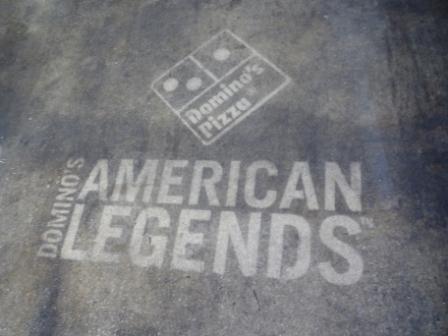 Although the reverse graffiti logo pictured above may not look dazzlingly exciting, the message was combined with an online element in conjunction with a treasure hunt. In 2009, Domino's Pizza hired eco-friendly Dutch marketing agency GreenGraffiti to create 210 street pieces in three different US cities: Philadelphia, New York and Los Angeles.
People were encouraged to snap pictures of themselves with the graffiti and submit the photos for a shot at winning Domino's gift cards. Domino's spokesperson Chris Brandon said, "We think this is a great avenue to keep the buzz going in a nontraditional, more viral way." The campaign cost less than $20,000 to run, but Domino's believes it generated publicity worth around $1 million.
3. IBM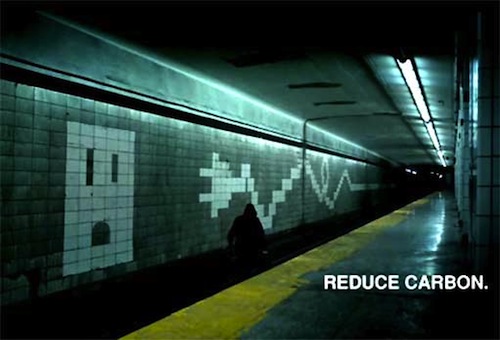 American company IBM made sure the subway, tunnel and rooftop it clean tagged got lots of exposure by including the three pieces created in three separate commercials. The works were commissioned as part of IBM's 2008 Fight Carbon campaign, and the piece pictured above featured in the "Operation Underground – Subway" commercial. The ad was shot in Toronto, and upon completion of the mural and filming, the whole site was cleaned.
IBM encourages companies to adopt green practices and focus on reducing energy consumption as well as greenhouse gas emissions in buildings. Again, the reason this reverse graffiti message is so poignant and effective is because the medium used is itself so sustainable. Ganjou explains, "It's not just about the creative message, it's about the way in which you communicate it. Consumers look at traditional media advertising, and they don't necessarily equate the impact of the medium – a poster, say – on the environment."
2. BMW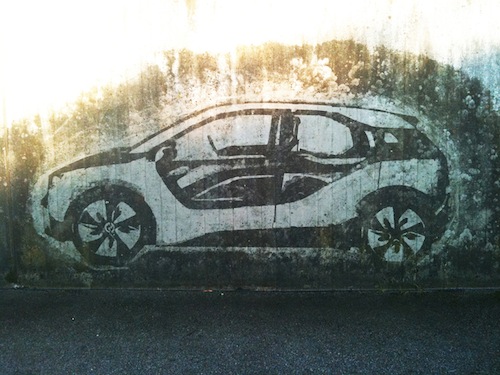 In 2011, Paul "Moose" Curtis, along with Marc Cameron, cleaned this BMW i3 onto a wall in Munich, Germany. The duo were commissioned by German magazine Süddeutsche Zeitung to create reverse graffiti pieces of several iconic electric vehicles. "Moose" is one of the most well known reverse graffiti artists (although he would say "grime writers") in the world; he's even been credited as the inventor of the art form. According to a 2004 article in The Guardian, Curtis can earn as much as $920 a day producing commercial material.
Interestingly, even though reverse graffiti uses no spray paint and the images eventually fade over time, it can sometimes be difficult to obtain permissions from the authorities. However, as the practice becomes more accepted and understood, grime writing is finding new and unlikely fans. In 2011 in the UK, Sheffield City Council, South Yorkshire Police, Sheffield Drugs & Alcohol Action Team and the Licensees Forum teamed up to run a joint reverse graffiti campaign to encourage safe drinking in the build-up to the festive period.
1. Green Works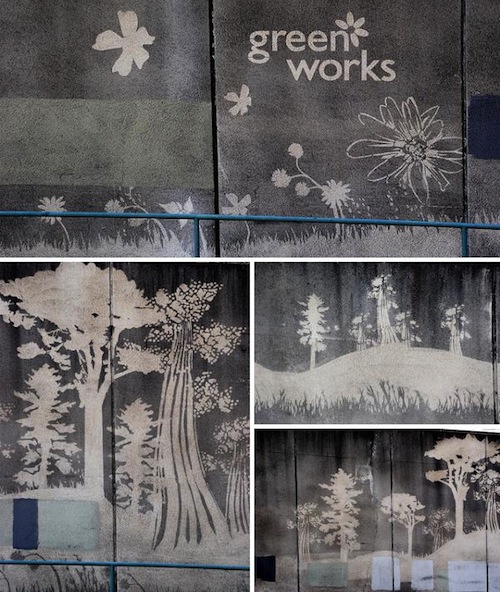 In April 2008, Curtis clean tagged this impressive 140-foot-long mural for ad agency DDB West. The piece was produced to promote the launch of The Clorox Company's Green Works natural cleaner. To create the graffiti, Curtis used some of Green Works' environmentally friendly, 99 percent plant-based cleaning products.
Not only did the mural show the effectiveness of the cleaner, but it also cast it in a positive light by cheering up a dreary-looking and filthy stretch of concrete just outside San Francisco's Broadway Tunnel. According to Ads of the World, more than 20,000 people pass the spot every day – and when you consider the fact that the piece still hadn't faded away more than a year later, that's a lot of traffic.